WooCommerce product addons plugins allow you to add features and functionality to your store without the need to dive into the actual code. These plugins allow you to offer customers more options and features with their purchases, such as special promotions, discounts and more. And with the right plugins, you can also make it easier to manage your store and keep up with customer orders.
In this blog post, we'll explore the top-rated WooCommerce product addons plugins to help you get the most out of your store.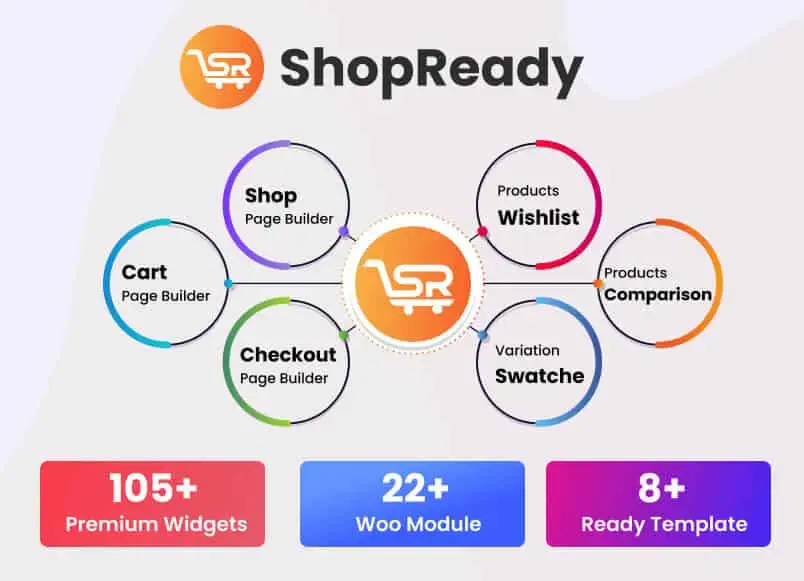 ShopReady is one of the best WooCommerce product addons plugins available. It allows you to add custom product pages, as well as additional layouts and features to your WooCommerce store. ShopReady gives you the ability to add product reviews, product videos, and even payment options to your product pages. It also includes an intuitive drag-and-drop editor, so you can easily customize the look and feel of your store.
ShopReady is an excellent choice for those looking to create a fully-customized WooCommerce store. Featured, visually appealing eCommerce store that caters to a wide range of customers. Furthermore, it's compatible with both WooCommerce and Shopify, so you can easily integrate it into your existing store. With ShopReady, you can improve the shopping experience of your customers and create a more engaging and interactive store.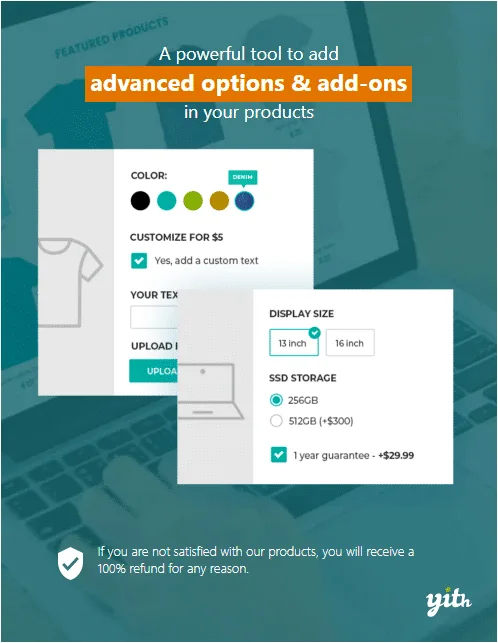 YITH WooCommerce Product Add-Ons is a great plugin for adding custom options to your WooCommerce products. With this plugin, you can create an unlimited number of extra fields and options to let customers customize their products. You can also create different types of fields, such as text fields, checkboxes, radio buttons, and dropdown boxes.
This plugin also comes with a variety of preset options that allow you to quickly create custom options for your products. YITH also offers a Pro version that provides even more features, including the ability to add custom images, videos, and more.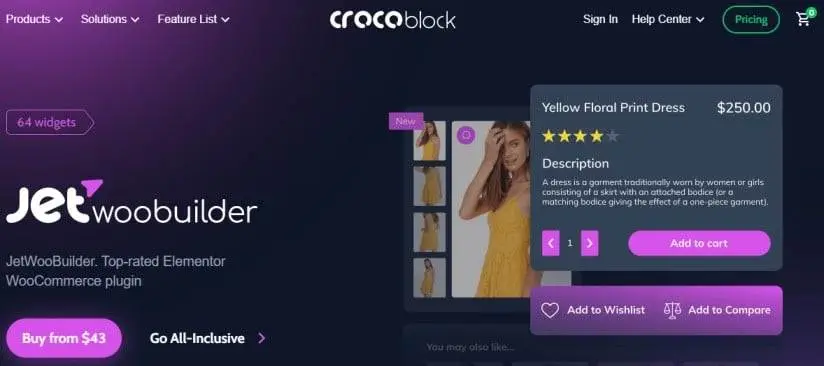 JetWooBuilder is an add-on for WooCommerce that allows store owners to easily create and customize product pages. It is a powerful drag-and-drop product builder with a range of widgets and modules to create beautiful product pages.
This plugin also includes a powerful AJAX filter so customers can easily find the products they are looking for. JetWooBuilder is perfect for store owners who want to create unique and attractive product pages that will encourage customers to buy.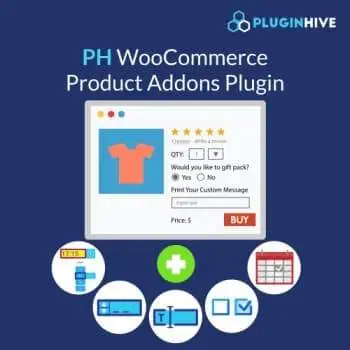 The fourth best WooCommerce product add-on plugin is PH WooCommerce Product Addons. This plugin allows you to add additional options to your products, such as custom text, images, checkboxes, and more. You can also create custom pricing rules and discounts for these add-ons.
Additionally, this plugin makes it easy to manage product options, set minimum and maximum limits for each option, and control how the add-ons are displayed on the product page. PH WooCommerce Product Addons is a great choice for anyone looking to add custom options to their store's products.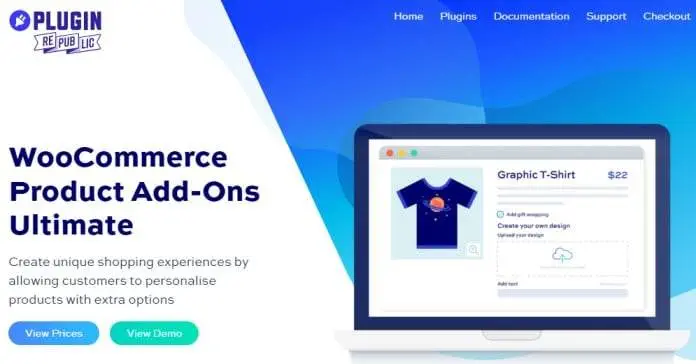 WooCommerce Product Add-Ons Ultimate is one of the best WooCommerce product add-ons plugins currently available. This plugin allows you to add additional fields, sections, and options to existing products, giving customers the ability to customize their purchases.
It also gives you the ability to create custom product bundles and offers special pricing for certain products. It is an incredibly versatile plugin that can be used to increase sales, improve customer satisfaction, and make product customization fast and simple.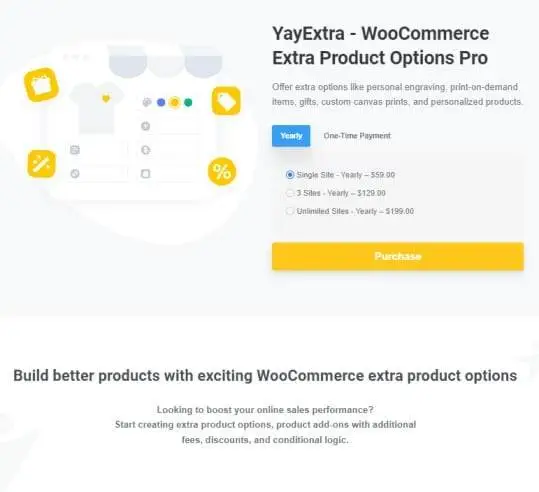 YayExtra is a powerful product addon plugin for WooCommerce that allows you to offer customers add-ons and upgrades to their purchases. This plugin is incredibly easy to use, with a drag and drop interface that lets you quickly set up your product add-ons. You can also use it to offer discounts on add-ons, create subscription-based add-ons, and more.
YayExtra is a great way to boost your store's revenue by giving customers more options to choose from.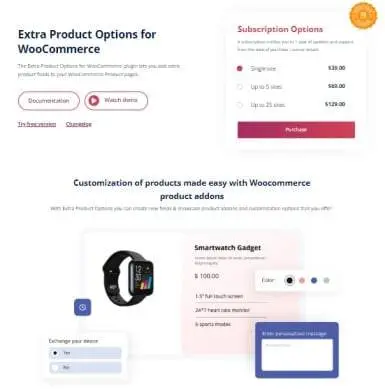 Offering extra product options for WooCommerce is an easy and powerful way to increase sales. Customers love to customize their orders and having the ability to do so encourages them to buy more. Providing product addons gives customers the freedom to choose the exact product they need, whether it's a special color, design, size, or other feature.
Here are some of the best WooCommerce plugins.

Advanced Product Fields is one of the best WooCommerce product addons plugins available. It provides an easy way to extend the product data with custom fields. These custom fields can include text, radio buttons, checkboxes, date-time pickers, and more.
With Advanced Product Fields, you can create an unlimited number of custom fields and assign them to any product or product category. This plugin can help you add additional information about your products, including size charts, material details, product-specific offers, etc. Advanced Product Fields is a great way to make your products stand out and encourage customers to make a purchase.
In conclusion, WooCommerce product addons plugins provide a powerful set of tools that can help you customize your store and make it easier for customers to find the products they're looking for. With the right plugins, you can create a great experience for customers that will help keep them coming back. With the right combination of features, you can also create a store that stands out from the competition and offers customers an unforgettable shopping experience.